How to use Internet Explorer mode in Edge to open incompatible pages ?
Since Microsoft abandoned Internet Explorer, many users have encountered compatibility issues with certain web pages using their current browser. This can be particularly inconvenient when you need to access a web interface of an older device that is only compatible with Internet Explorer.
Fortunately, Edge, Microsoft's web browser that replaced Internet Explorer, offers a feature to load web pages in Internet Explorer mode. In this article, we'll explain how to use it.
Opening a Page in Internet Explorer Mode in Edge:
First, open the page in question in Edge.
You will most likely receive an error message indicating that the page is not compatible with your browser.
Now, click on the three dots in the upper right corner of the Edge window to open the menu.
Then, click on "Reload in Internet Explorer mode":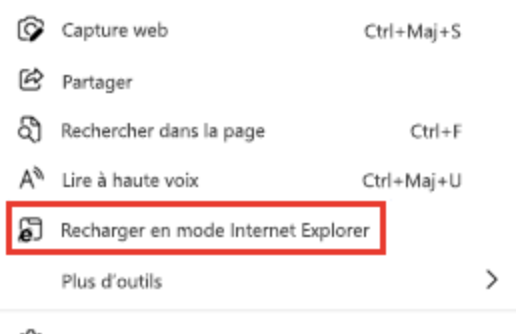 You should now see the page displaying correctly. You can use it as you normally would even though it's not compatible with the Edge browser.
It's important to note that Internet Explorer mode should only be used when absolutely necessary, as it may pose security risks, especially if it's not up to date. Always make sure you have the latest version of Internet Explorer or Edge before using it.
If the "Reload in Internet Explorer mode" Option Doesn't Appear:
If you don't see the "Reload in Internet Explorer mode" option in the menu above, it may be because this mode is disabled in your Edge browser.
If that's the case, here's what you need to do to enable it:
Access the following address from Edge: edge://settings/defaultBrowser (Enter this directly in the URL bar as if it were a website address).
In the "Allow sites to be reloaded in Internet Explorer mode" option, choose "Allow".
After this, the "Reload in Internet Explorer mode" option should appear in the menu.
Categories : Windows
By Guillaume - 02/21/2023 at 10:59 pm